PROMOTE & SELL YOUR PRACTICE
Brandable Sales Sheet For BeachheadSecure®
You asked for it—here it is. The BeachheadSecure Sales Sheet is now available to incorporate your firm's identity. Extremely easy to brand and customize—this sales sheet will make you look great! Because frankly... you are!
Give your sales game a boost with BeachheadSecure Sales Resources and stay tuned for more resources to be made available through the Beachhead Partner Program.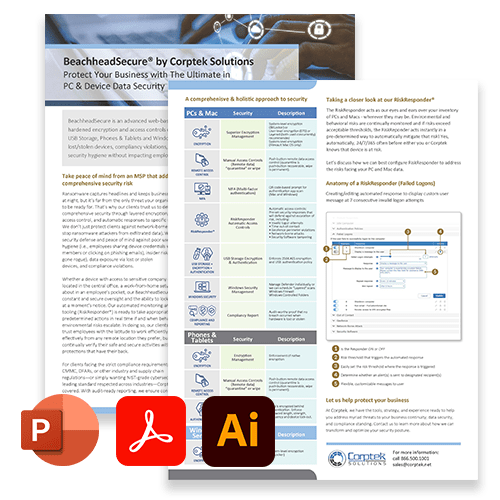 Download the Sales Sheet
While it's no replacement for sales qualification or a demo—a sales sheets is a powerful tool to help nurture leads and close more deals.
The brandable BeachheadSecure Sales Sheet is available in Powerpoint, Adobe Acrobat, and Illustrator. To get started, simply:
Complete the form
Download the Sales Sheet
Update with your logo, offering, and company info
Sell. Better.