Industry Report 2024
MSP Guide to Compliance and Regulation
For MSPs, achieving ongoing compliance with relevant cybersecurity frameworks and confidently touting that compliance with clients is a strong—and differentiating—advantage for your practice. Demonstrating your own compliancy and providing the peace of mind that data security is in good hands puts you in position to benefit from more trusting and longer-lasting client relationships, higher MRR, and better margins.
Prepare Now. Download this free report, with actionable advice for MSPs from several compliancy experts.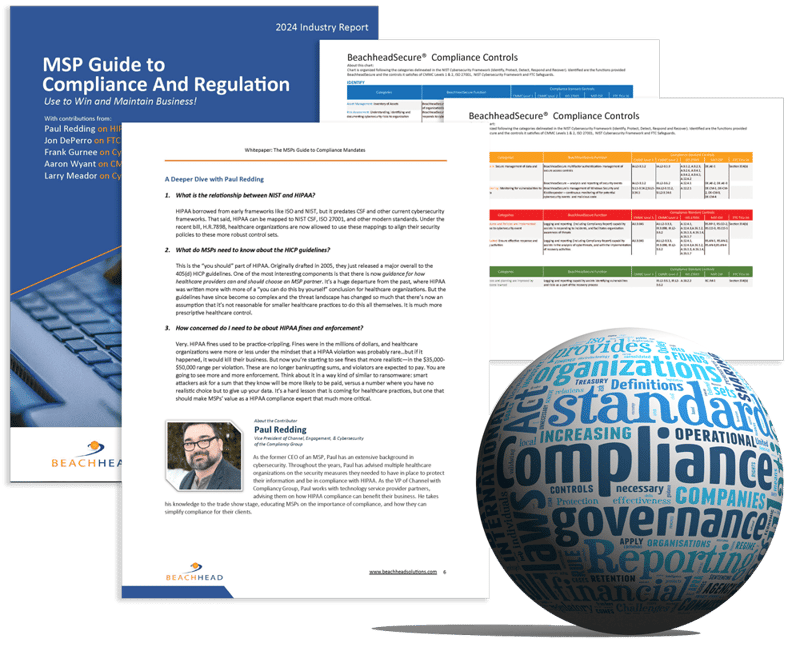 Download the Industry Report
It's time to get smart about compoliance and regulation! With so much happening over the course of the next 18 months—this guide is full of insights in how to navigate upcoming change and stay on top.
Complete the form to download the Industry Report with contributions from the following:
Paul Redding on HIPAA Compliancy Group
Jon DePerro on FTC Safeguards Visibility MSP
Frank Gurnee on Cyber Assessments Security Studio
Aaron Wyant on CMMC Dispatch Tech
Larry Meador on Cyber Insurance Datastream